Welcome to the FitzGerald Academy! We provide an outstanding learning environment for medical students of the University of Toronto. St. Michael's is the anchor hospital of the FitzGerald Academy and we also have preclinical and clinical opportunities at St. Joseph's Health Centre. It is our priority to support student clinical education by offering a diversity of experiences. We bring together amazing students and dedicated, compassionate teachers in a setting that is focused on providing the best clinical care to our patients. We believe that treating students with respect results in students learning how to treat patients well – with expertise, dignity and compassion.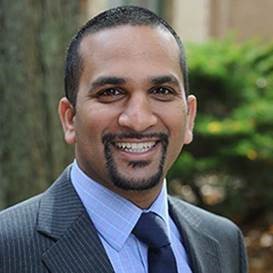 Dr. Jeremy Edwards has been a cardiologist, echocardiographer and educator in the Division of Cardiology at St. Michael's Hospital (SMH), Unity Health and at the University of Toronto since 2011. Dr. Edwards' clinical interests include valvular heart disease, interventional echocardiography and general cardiology. 
Dr. Edwards has been honoured to be a past recipient of the Robert H Hyland Teacher of the Year Award, Gerald Wong Undergraduate Teaching Award, Dr. Luigi Casella Award, and the Outstanding Postgraduate Teaching Award. As an educator, Dr. Edwards has been involved in teaching, curriculum development and education administration at both undergraduate and postgraduate levels. At the undergraduate level, he has co-led the 4-week cardiovascular block of the Foundations curriculum since its inception. He has also served as site co-lead for the Internal Medicine Clerkship rotation at the FitzGerald Academy. In postgraduate education, Dr. Edwards has served as rotation coordinator for the cardiology ward rotation at SMH. In addition, he has been a member of the Internal Medicine (IM) academic half day planning (AHD) committee, previously organizing the PGY2 AHD curriculum as well as coordinating the cardiology AHD curriculum for the IM program. For the cardiology training program, Dr. Edwards has served as rotation coordinator for the echocardiography rotation at SMH and more recently has become a member of the Cardiology Training program Competence Committee. As an administrator, Dr. Edwards has been the Director of the Cardiology Inpatient Ward at SMH. He also works as an assessor for the College of Physicians and Surgeons of Ontario.
We have 2-3 student representatives from each class. Throughout the year the reps meet 3-4 times with the Academy Director and the Education Coordinators. Reps act as a liaison between the class and the Academy. Reps provide the Academy with feedback and help organize events for students. If you are passionate about the Fitz Academy this is a great role for you!
The Fitz Career Talk sessions were created to help pre-clerkship medical students with career exploration. The goal for this one-hour session is to have a staff physicians and trainees from each specialty provide insight into their specialty and discuss what their career path was like. Please check your email inbox for details about upcoming Fitz Talks. 
Clerk Connections is an informal opportunity for you to see and catch up with your colleagues who you may not get a chance to see on a regular basis.
Calendar invites will be sent in advance with the date, time and room location. 
Interprofessional Education (IPE) sessions
Click here for a list of upcoming Interprofessional Education (IPE)/Collaborative Learning sessions.
FitzGerald Teaching Awards
The FitzGerald award nomination survey link is now live. The awards will be announced in June during Medical Education Day. 
Click here for the survey link.
***Nominations may only be submitted by FitzGerald students.***
Award categories:
Clinical skills teacher Award
CBL teacher Award
HSR teacher Award
HC teacher Award
Resident Teacher Award
Clerkship Teacher Award
Friends of the Academy Award
Master Teacher award
SMH
Facilities and Spaces
SMH
Resources and Guidelines
Have questions? Contact us here